PTA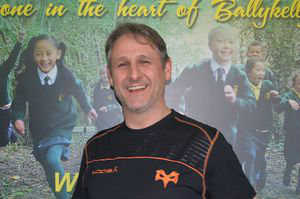 Paul- Treasurer
Johnny- Assistant Chairperson
Ballykelly Primary School Parent Teacher Association was established fifteen years ago to help raise money and organise events within the school, for the benefits of the wider school community.
In 2006 it was registered as a charity with the Inland Revenue.
Annually, the PTA raises approximately £6,000 and this money is disseminated into the school for equipment, material and events not covered by budgetary constraints.
In 2009 the PTA paid £11,000 for new reading materials.
The PTA have also raised money to buy ipads and Apple TV for the school to enhance and consolidate learning experiences for the children.

The PTA members are nominated annually at the AGM, which is open to all parents and teachers of the school.
Committee Members Julie McAllister (Chairperson)
Johnny Thompson (Assis Chairperson)
Alexis McIvor (Secretary)
Paul Daniels (Treasurer)
Gary Finlay (Assis Treasurer)
Tony McCluskey Ashley Miller Genevieve Peoples Gemma Devenney Anna France Alison Reid
This is not an exclusive list and members are welcome to join at any point.
Ballykelly Primary School, 8 Glenhead Road, Ballykelly, Limavady, BT49 9JS Phone: 028 7776 2864